Segment
Entertainment
In the Entertainment business area, ProSiebenSat.1 offers viewers the Group's entertainment content across all its media platforms.
TV Broadcasting
& Sales
Distribution
Advertising Platform Solutions
(Adtech)
SevenVentures
Digital Platforms
Value Creation
Strong together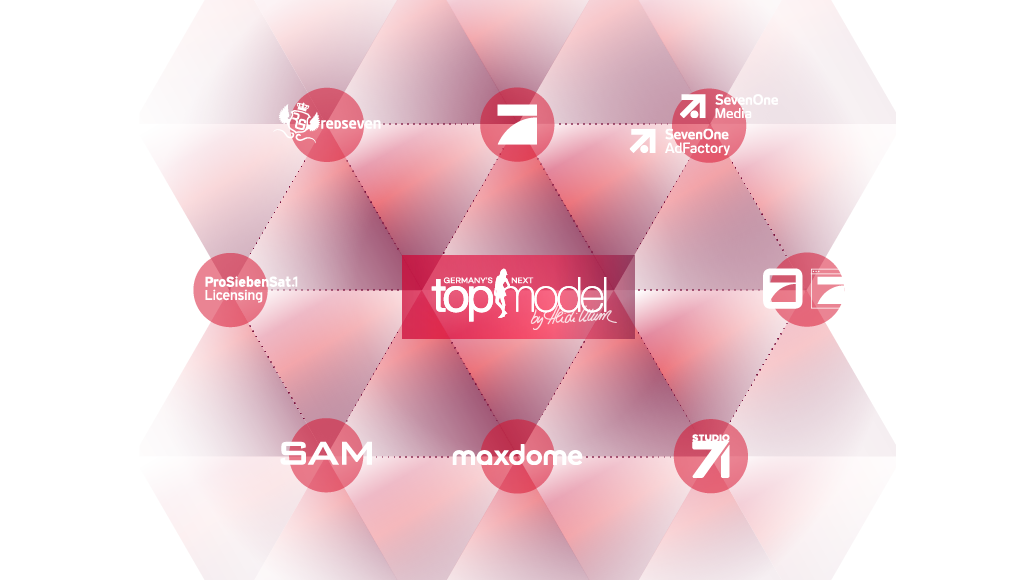 RedSeven
GNTM ranks among the most successful shows produced by ProSiebenSat.1's wholly-owned subsidiary RedSeven Entertainment, a production company founded in 2008.
ProSieben
The ProSieben channel has been broadcasting GNTM since 2006. Season 12, which aired in 2017, achieved an average market share of 17.5 percent among 14- to 49-year-old viewers, making it the strongest in six years.
SevenOne Media
The ProSiebenSat.1 Group's sales subsidiaries SevenOne Media and SevenOne AdFactory deliver 360-degree marketing for advertising clients. They use creative concepts to set the perfect, GNTM-compatible stage for brands and products – and they do it on all platforms.
ProSiebenSat.1 Licensing
ProSiebenSat.1 Licensing awards product and promotion licensing agreements to all official GNTM partners so they can benefit from the brand's image. With a total of 11 licensees in season 12, GNTM is one of the most successful licenses in the ProSiebenSat.1 subsidiary's portfolio.
Prosieben Apps
The channel's website and apps give viewers the opportunity to watch the show live or time-shifted, and offer behind-the-scenes material. With live streaming and catch-ups on ProSieben.de (on a PC or laptop), season 12 achieved an average additional net reach of 5.5 percent among 14- to 49-year-old audiences.
Starwatch Artist Management
Starwatch Artist Management (SAM) manages and looks after the models during each GNTM season. During this time, the ProSiebenSat.1 artist agency negotiates all jobs and handles them in the models' best interests.
Maxdome
All episodes of GNTM are available on the online video library maxdome. The 12th season represented a high point for the show, with individual episodes viewed up to 13,000 times per week. In addition, views of previous seasons are again on the rise during the current season.
Studio 71
Studio71 maintains the official GNTM YouTube channel, which, with more than 440,00 subscribers, counts among the digital studio's top ten TV YouTube channels. It shows highlight clips from all seasons, providing users with content of their favorite program throughout the year.
From production and broadcasting to online extension and licensing: ProSiebenSat.1's subsidiaries cover all parts of the value chain that we have established around the successful format "Germany's next Topmodel".
Viewer magnet for the target group

"Germany's next Topmodel" is popular on all channels – on free and pay TV, the station website, the ProSieben app as well as on social media. With its wide audiovisual reach, the show is a reliable ratings hit.

Show more

Show less

23.8

Percent

average market share in the relevant target group of 14- to 39-year-old viewers

SEASON

12

was the most successful in six years

an average of

5.5

Percent

additional net reach among 14- to 49-year-old viewers via PCs and laptops (live stream and catch-up on ProSieben.de)

A perfect match for advertising partners

The ProSiebenSat.1 sales companies, SevenOne Media and SevenOne AdFactory, offer clients innovative, 360-degree advertising concepts. Thanks to these additional services on top of traditional TV commercials, advertisers are able to reach audiences in especially effective ways.

Show more

Show less

360°

MARKETING APPROACH

by SevenOne Media and SevenOne AdFactory

Advertising on GNTM is effective:

73

Percent

aided brand recognition of Opel Adam in the female target group (ages 14 to 49)

Digital appeal

The models also run the catwalk successfully online. On ProSieben.de and the station's social media channels, fans get a peek behind the scenes of the hit show thanks to exclusive video material.

Show more

Show less

over

100 million

Video Views

of the 12th season via ProSieben.de, channel apps, Smart TV, HbbTV and YouTube

weekly

20

stories produced exclusively for the Web during each season

over

1 million

likes

on the GNTM Facebook page

over

400 K

SUBSCRIBERS

to the official GNTM YouTube channel